Leap Visitor Card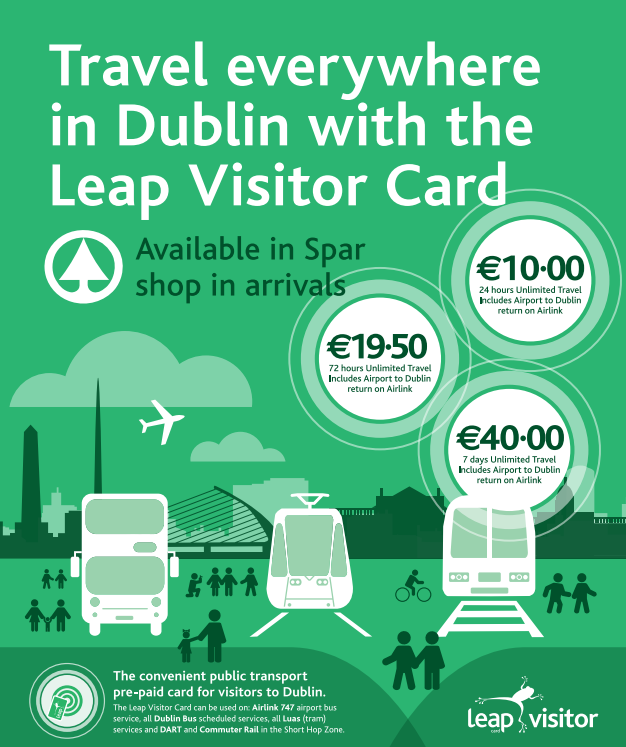 The Leap Visitor Card is the convenient public transport ticket for tourists and visitors to Dublin.  It takes you anywhere you want to go in the city and suburbs for the following time periods:
1 day (24 hours) – €10.00
3 days (72 hours) – €19.50
7 days (168 hours) – €40.00
Your chosen time period starts from the first time you use the card.
Buying and topping up
The Leap Visitor Card is currently available to buy from:
Dublin Airport
Spar shops (T1 & T2 Arrivals)
Discover Ireland Tourist Information Desks (T1 & T2 Arrivals)
Dublin Airport Travel Information Desk (T1 Arrivals)
Dublin City Centre
Dublin Bus, 59 Upper O'Connell St.
Discover Ireland Centre, 14 Upper O'Connell St.
Visit Dublin Centre, 25 Suffolk St.
Once you have a Leap Visitor Card, you can top-up with additional time periods (1, 3 or 7 days) for the prices shown above at any Leap Card payzone outlet in Dublin (up to a maximum of 5 times).
Travelling with your leap visitor card
Your Leap Visitor Card allows you unlimited travel after first use for the period you have selected on:
Airlink 747 airport bus service
All Dublin Bus scheduled services (not valid on tours)
All Luas (tram) services
DART and Commuter Rail in the Short Hop Zone (all of Dublin city and county)
The Leap Visitor Card is used by simply touching it against a Validator. You will hear a tone to verify you have validated properly.
On Dublin Bus and Airlink 747, touch the card against the Leap Card Validator on the right-hand side as you enter the bus.
On Luas (tram), Touch On at a Validator on the platform before you get on the tram and Touch Off when you get off the tram.
On DART and Commuter Rail, Touch On at the platform entry gate or Validator before your journey and Touch Off at the platform exit gate or Validator after your journey. The card can be used between stations within the Short Hop Zone.
Transport services in dublin