News
New fleet and improved bus services for Waterford City Services
05.12.18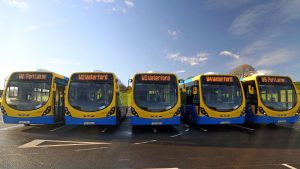 – 17 new State-of-the-art vehicles
– 21 new jobs created
Bus Éireann, in conjunction with the National Transport Authority (NTA) are pleased to announce the introduction of an enhanced Waterford city service commencing from Sunday, December 9th 2018.
This enhanced network will be delivered by a fleet of 17 new state-of-the-art city buses. All vehicles will be fully accessible and feature Transport For Ireland livery. They will operate the five city routes in Waterford, which are newly re-numbered W1 – W5.
Customers will experience many benefits with new timetables meaning extended hours of operation and increased service frequency. For the first time in the city a full Sunday schedule will operate.
All 17 new vehicles will feature a bright new interior design, comfortable seating, a dedicated wheelchair space, a separate designated child buggy space, priority seats, USB sockets, complimentary Wi-Fi, CCTV security cameras throughout, as well as journey information screens.
All service improvements will be introduced from Sunday, December 9th next with customer benefits as follows:
Route W1 (formerly 601) & Route W2 (formerly 603)
Increased hours of operation and frequency
New Sunday and Public Holiday timetable
In addition, Route W1 & W2 combined will now provide a service every 10 minutes to Waterford Institute of Technology (WIT) throughout the day, with a combined 20 minute frequency during the evening.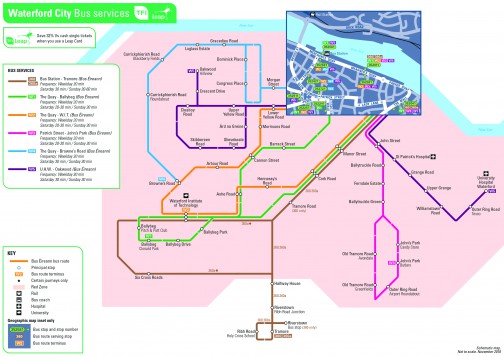 Route W3 (formerly 602)
Saturday will have an increased frequency
New Sunday and Public Holiday timetable
Route W4 (formerly 604)
Increased hours of operation and frequency New Sunday and Public Holiday timetable.
Route W4 will also be extended to Brown's Road to serve both the IDA Industrial Estate and WIT.
Route W5 (formerly 605)
Increased hours of operation and frequency
New Sunday and Public Holiday timetable
In order to further enhance the customer experience, over the next eight weeks, new bus stop infrastructure with stop specific information will be installed across Waterford City. The boosted network will be supported by additional driving and supervisory staff, creating 17 new jobs in Waterford.
Speaking ahead of this Sunday's improved network and fleet changes, Michael Faherty, Bus Éireann Services Manager in Waterford said: "This major network enhancement has been designed to better facilitate customer demand, encourage increased usage of public transport and is a major boost for our customers in Waterford City."
Anne Graham Chief Executive Officer of the National Transport Authority said: "We see these enhancements and improvements to bus services in Waterford as a significant development as part of the Transport for Ireland integrated public transport network."
"This represents very good news for the people of the city and the region who will now have a bus service that's more frequent and more useful, seven days a week across all routes."
The best value fares are available by using a Leap Card – which will guarantee savings of up to 30% on cash fares. For more information see about.leapcard.ie/waterford. As of the 1st of December, 2018, Tramore will be included in the Waterford city red zone and will benefit from urban fares.
A single ticket from Tramore to Waterford will now only cost €1.96 when using your Leap Card. For new detailed timetable information see here: www.buseireann.ie/waterfordcity
The service enhancements on Routes W1 to W5 that will be introduced on Sunday 9th December 2018 have been approved by the National Transport Authority.