News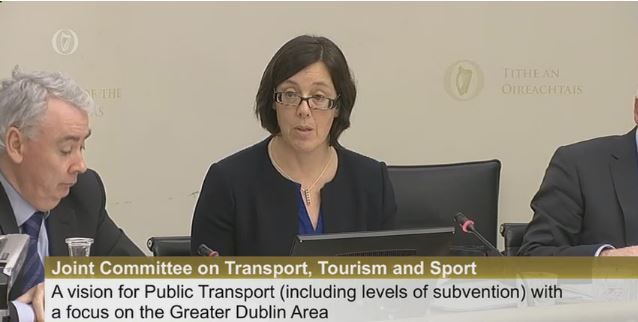 NTA Introductory Statement to the Joint Oireachtas Committee on Transport Tourism and Sport, on 'A vision for public transport in the Greater Dublin Area'
23.11.16
Introductory statement from Anne Graham, Chief Executive, National Transport Authority
GROWING DEMAND HIGHLIGHTS NEED FOR BUS INFRASTRUCTURE INVESTMENT
The GDA Transport Strategy 2016-2035, approved by the Minister earlier this year, sets out how the vision for greater use of sustainable transport could be delivered by 2035 allowing also for a 29% increase in transport demand over that period.
The strategy outlines the heavy and light rail network, the core bus network as well as a supporting cycling network and other demand management measures that are necessary to ensure that 55% of the trips to work in 2035 are made by sustainable modes (up from 38% in 2011).
The cost of all the measures in the strategy is €10bn, which averages at €500m each year over the 20 year horizon of the strategy. Delivering these projects will accrue an overall benefit to cost ratio of 1.5 to 1. However the current capital funding for improvements to public transport are not at the levels required to meet the GDA Strategy goals. Approximately €350m is provided each year for the next three years for public transport across the state which includes the funding required for steady-state funding of the rail network across the full State. The Authority will shortly publish its statutory Draft Implementation Plan which will set out what can be delivered within the current financial envelope in the next six years.
Growth in Travel
Following a period of reduced transport usage and suppressed transport growth, both in relation to private car use and also public transport patronage, 2014 saw the start of a reversal of these trends. Public transport usage has increased for all modes since then – bus, Luas and commuter rail.  Paralleling the changes in public transport, car travel has also increased across the Dublin region since 2014.  Demand for travel is now on the increase and patronage on public transport is growing. To date in 2016, passenger numbers continue to grow with an estimated outturn growth of about 5% expected by the end of the year.
This trend of increased overall demand is expected to continue and accelerate with further economic recovery and population growth envisaged over the next 5 years. It is unlikely that all such demands can be met within existing service provision and capacity, particularly within the City and urban networks where population growth will be highest, and where existing peak capacity is already well used.
The full statement can be downloaded here – Statement to the Joint Oireachtas Committee on Transport Tourism and Sport, on 'A vision for public transport in the Greater Dublin Area'