Maidir leis an Pleanálaí Náisiúnta Turais
Soláthraíonn an Pleanálaí Náisiúnta Turais pleanálaí turais, eolas faoi chláramanna agus faoi thaistil ó gach soláthraithe ceadúnaithe iompair phoiblí ar fud na hÉireann.
Is féidir leat an Pleanálaí Turais a úsáid ar líne anseo nó an Aip a íoslódáil anseo. Soláthraíonn an Pleanálaí Turais eolas faoi sheirbhísí iarnróid, bus, tram, farantóireachta agus tacsaí.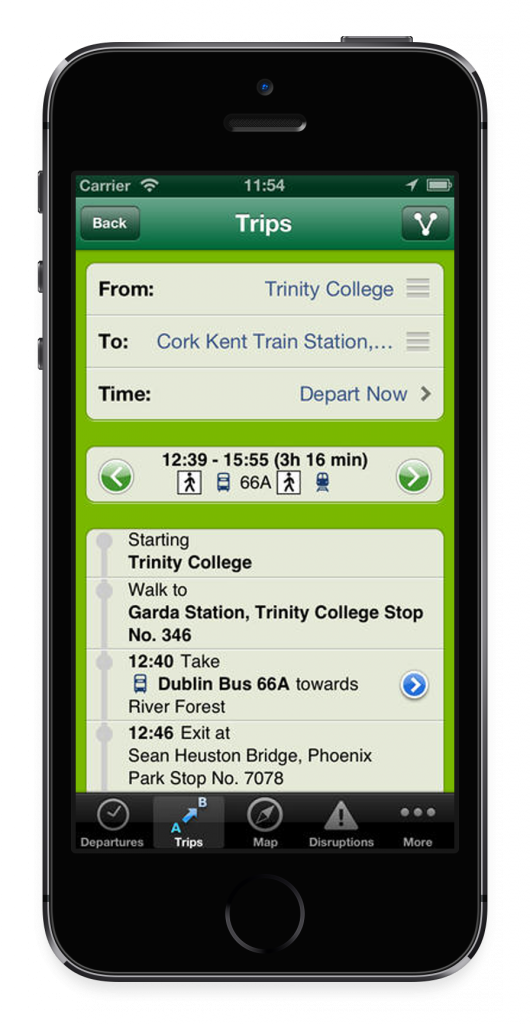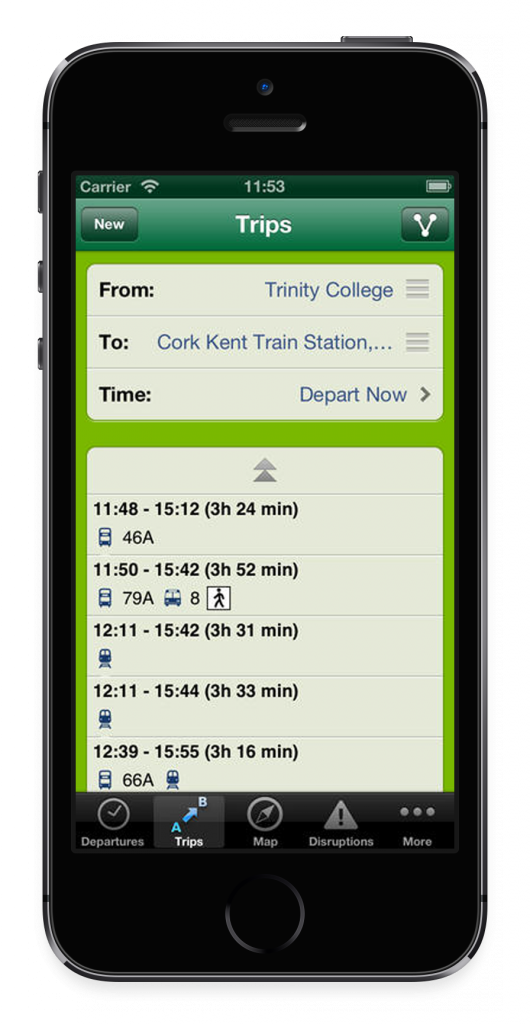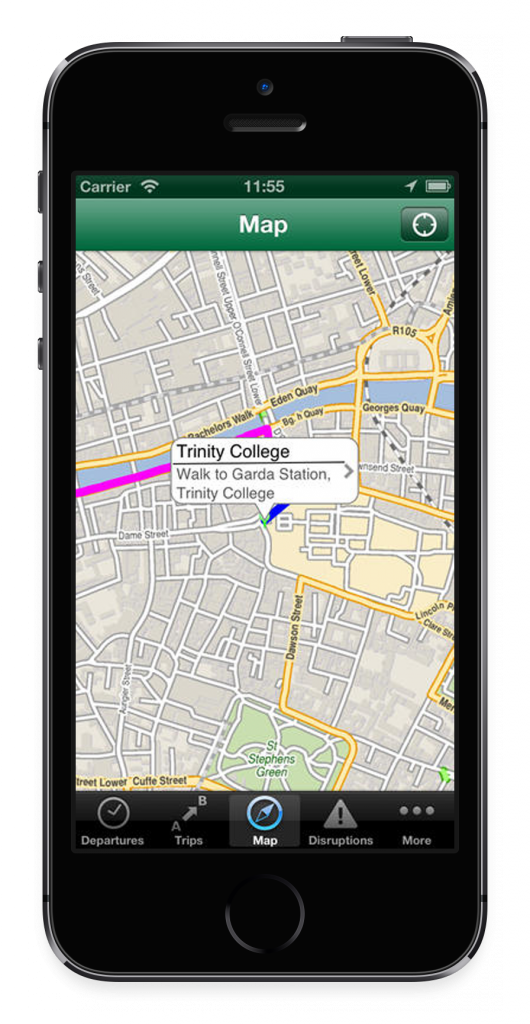 Faigh eolas comhtháite faoi sheirbhísí traenach, bus agus tram ar fud na hÉireann.
Is féidir leat an aip taistil Pleanálaí Turais d'Éirinn saor in aisce ó Aipmhargadh Apple d'iPhone agus iPad Windows store nó Google Play store do ghléasanna Android.
ÍOSLÓDÁIL ANOIS – SAOR IN AISCE

Gnéith na haipe Pleanálaí Turais
Tar éis duit an aip a íoslódáil taispeánfar na ceithre chnaipe rogha duit. Is iad seo a leanas na ceithre rogha; Imeachtaí, Turais, Léarscáileanna agus Cinn scríbe.
Aimsigh amanna imeachta i do cheantar, áit a dteastaíonn siad uait
Pleanáil turas iomlán ag úsáid ár ngné Turais , a bhfuil amanna bus, Luas, Iarnróid Éireann agus farantóireachta le fáil ann.
Sábhálann sé turais roimhe seo do do chaoithiúlacht.
Zúmáil isteach ag úsáid léarscáileanna le teacht ar stadanna iompair de réir ceantair agus féach ar eolas amchláir do na seirbhísí sin
Faigh na fógraí is déanaí maidir le cur isteach ar iompar agus cinntigh go dtógann tú na bealaí is fearr
Gnéithe breise Aipe:
Clúdach in Éirinn go léir, ceantair iarghúlta agus cathracha san áireamh
Gach modh iompair phoiblí, traenacha, busanna, cóistí, báid fharantóireachta agus tramanna san áireamh
Léarscáiliú dinimiciúil zúmáil agus scrollaigh
GPS ag úsáid 'my location'
Sábháiltear na hionaid is fearr agus turais deireanacha
Feidhmeanna ríomhphoist agus féilire
Leis an aip pleanálaí turais tá sé níos éasca turas chuig áit ar bith sa tír a phleanáil. Bíonn sé i gcónaí á nuashonrú agus á fheabhsú le freastal ar do riachtanais.
What is the National Journey Planner?
The National Journey Planner is a door-to-door journey planner that provides service information, directions, and time estimates for taking a journey on public transport.
How is the National Journey Planner different from other Journey Planners?
The National Journey Planner is the only planner that provides information for all licenced public transport services available anywhere in Ireland (including walking portions). The National Journey Planner offers information and comparison options for the following types of public transport: – Bus – Rail – Tram – Ferry – Taxi
What information does the National Journey Planner provide to help select the best trip?
The National Journey Planner provides a comparison of options for your journey on public transport including all the services available. An overview of each option of these journeys will be displayed, along with the other alternatives available.
What are the advanced features of the National Journey Planner?
Advanced features of the National Journey Planner include the ability for you to select: – The type of public transport you wish to use – Walking speed to and from stops and between your origin and destination – The fastest route, the route with least walking or the route with the least changes – Routes that take you via another location
Will the National Journey Planner offer additional features in the future?
Features still to come include real time public transport information added to your journey planner and a cycle journey planner. In addition, updates and improvements to the National Journey Planner will take place on a regular basis.
What Internet browsers does the Journey Planner work with?
All browsers except Safari are supported
What if I want more information?
Please visit www.Transportfor Ireland.ie for the latest information
Do you track my journey plan requests?
This site uses only temporary cookies to keep information and only for internal tracking purposes or to improve the user experience. We do not retain any information related directly to users of this site.
What can I enter in the search boxes for From and To?
The National Journey Planner will search for – Addresses, – Localities e.g. Naas, Sligo – Points of Interest (POI) – Bus, Train and Rail stops Entering addresses or localities first will generally have a higher likelihood of finding a match. Points of Interest (POI's) are being added to and currently include a variety of features such as civic facilities, hospitals, sports stadium, parks, and tourist attractions. The POI database will be updated on a regular basis
How else can I find a location if the right match does not appear through a text search in From and To boxes?
A dropdown menu is provided to help you locate addresses, localities, points of interest, rail bus, tram stops, ferry terminals, and landmarks. This is most useful if you can't recall or aren't sure of the names of facilities you're searching for, but may recognize them on a list.
Why does the calendar only allow me to plan trips up to 6 months in advance?
The National Journey Planner receives schedule service information from transport operators that are in operation for a varying amount of time The National Journey Planner also regularly receives schedule changes from transport operators that are included in the journey planner. These schedule changes are often not available from the operators until sometime between 1 month and a few days before the changes take effect. Although the National Journey Planner will provide a journey plan up to 6 months in advance It is advisable to check again closer to the actual date required in case any changes have been made.
What are the default settings for the National Journey Planner?
The default settings represent the expected requirements for the majority of users. They include: – The current time and date and 'depart' are selected by default – All means of transport are selected by default – The preferred walking time of 20 minutes is selected by default – The walking speed normal (4km/h) is selected by default – The fastest routes are selected by default
How does each of the default mode journey selections work in general? Why does it appear that they are not always followed in the itineraries output?
Based on the default preferences, the National Journey Planner will attempt to find trips that best match those criteria. There are cases however, where trips cannot be found with the given locations, desired time of travel, and default preferences. In these cases, the journey planner may relax some of the criteria in the preferences to deliver at least some journey itineraries.
Why are all of the mode choices pre-checked?
Part of the intent of the National Journey Planner is to make users aware of quick, at a glance alternative for their journeys, and help compare the times and services for the journeys. The pre-checked modes allow this to happen without the user having to think about this. Users can uncheck these if they don't want certain modes coming up in the journey option comparisons.
What are some of the ways to use Advanced Settings?
The advance settings allow the user to customise the journey planer to their individual requirements. Example - the speed and distance we wish walk varies amongst individuals, using the 'walking speed and preferred walking time in advanced settings allows the user to more closely select journey plans that meet their needs . Note that the National Journey Planner may override and not apply some of these advanced options when those preferences result in trips that are either illogical or significantly worse than the more standard trips along these routes.
How do I plan a reverse journey?
The National Journey Planner provides a quick button located between the 'from and to' panels which will reverse the journey entered and provide an updated journey plan.
Is there a capability for walking trips or bicycling trips?
All-walking trips will sometimes be shown as an option for very short trips as one of the alternatives. However, walking itself is not selectable as a separate mode. Bicycle trips are not currently included
Which Transport providers are included in the National Journey Planner?
All licenced operators of scheduled public transport in Ireland who have provided us with information of their services to a suitable accuracy and format have been included in the National Journey Planner
What does the Transport updates tab show?
By opening the Transport updates tab you will see the latest information about services, disruptions etc.
Why does the National Journey Planner sometimes show locations that are not precisely located at the intended point when I click on the map to set a journey plan point?
The National Journey Planner will approximate the location you are placing when you manually select a point by clicking it on the map. Zooming in more closely on the map before clicking to set the point may improve the accuracy of your intended location placement.
I am manually clicking on the map to set my 'route from here' and 'route to here'. How can I easily change one of the points if I accidentally click on the wrong place on the map?
To change a location point that you have placed in the wrong spot on the map, you simply right click on the correct location and a new journey plan is generated. Replacing the text in the 'From and To' boxes will also allow you to then set points for those locations". If for some reason this does not work, click 'New Journey' and start again.
Why does the National Journey Planner show several different journeys?
A key feature of the National Journey Planner is to present to the user different choices so that they can make comparisons. To simplify the output, each journey is summarised in the Journey and Print Windows
Why is the response time slow at times when I use the National Journey Planner?
The National Journey Planner is complex and requires a lot of back and forth activity between the host server and your computer network, and within the browser, which can affect the response time. Because the journey planner is constantly being assessed and updated, you are likely to find improvements in response time as the product matures.
Why do some of my journeys seem illogical or unintuitive when I believe that there are easier ways to take them?
The National Journey Planner uses all inputs to determine which journeys best match the basic journey details for user, such as departure time, transport schedules, mode preferences, maximum walking distance, etc. Sometimes trips that may seem most intuitive (for example, a journey starting at a bus stop closest to you) may not be shown, because due to bus schedules, the journey that starts closest to you is not among the fastest trips at that time. In addition, in areas where public transport is less frequent the National Journey Planner will try to find some journeys to display if possible. Even if the only ones available for your transit route do not depart within a short time of your planned departure, or do not follow transit routes that travel during some times of the day but not at other times.
Where can I find the Bus Stop number?
The bus stop numbers that are referenced in the National Journey Planner are those that are provided by the operators. The stop numbers are normally displayed on the bus stop sign. Unfortunately, not all operators use this method to identify bus stops thereof the stop name, which usually indicates the location is also included in the journey plan.
How do I see more Journey Plans if I don't like the first 3-4 that come back when I plan a Journey?
On the journeys tab, links for Earlier Trips and Later Trips will appear near the top and bottom of the itineraries. You should also consider changing the advance settings.
Sometimes the maps don't show all the street names. How can I view these?
The maps on the journey plans can be rather small, and the street names appear automatically at certain zoom levels. If you're not seeing the street names that you need, you can zoom in and out of these by clicking or scrolling the mouse. These maps will also appear on the Print version, in slightly larger size as well, and can be interactively zoomed and positioned for a better view on the screen and in printouts.
Some walk times shown on the National Journey Planner seem to be longer or shorter than what the walk time is in reality. Why is this the case?
Walk times are largely based on the Advanced Options you input before planning the journey or their default values if you don't choose to customize those using Advanced Options. Make sure that your desired maximum walking distance and your walking speed are correctly entered to obtain appropriate journey results. Regardless of advanced options, walk times calculated by the National Journey Planner may still be slightly different from walk times in real life; this may be because footpaths, which you actually use, are missing from the National Journey Planner. We are constantly adding footpaths to the National Journey Planner and would welcome any information on missing footpaths this can be sent to us using the feedback form
Why are there no real-time journey planning info for journey plans?
Real time information is available from the real-time website and should be integrated into this website by the end of 2012.
What are the main features of the National Journey Planner mapping system?
The National Journey Planner map is designed as an expandable slippy map for easy zooming and panning on a series of map tiles. Its primary purposes are to display journey plan routes, points, and associated information, also showing public transport stops and service information for the stop selected. To see the stops the map needs to be zoomed into its maximum.
What is the Map Window for?
The Map Window has two main functions – when you plan a journey you can use the map window to select the route from here and route to here locations by right button clicking on the map at your selected locations. The Map window will also show you the route you select from the various route options
Can I make the Map bigger and move the map to another area?
By double clicking on the map window or the arrow at the bottom left-hand side of the map a larger window opens, you can then use the scale bar or mouse wheel to zoom in and out. To move the map (pan) you can either use the compass points on the map or left click and hold the mouse. By clicking outside the map or on the close window icon will return the user to the front page.
How do I see different elements of a journey plan on the map?
In the journey window for each element of a selected journey a map icon is shown. By selecting that icon or the PDF icon next to it, a map for that element will be shown.
How do the Printing functions work?
Printing is set up to offer several variations that are displayed on a preview page before printing. The Journey plans can be printed with or without the accompanying maps and you can also print just the map and what you currently see displayed on it. In addition you can also print timetables for the origin and destination and any individual service
How do I print a journey plan?
Any number of journey plans can be selected using the print menu and each element of a journey plan can also be selected for printing by expanding the individual journey tab The Print version of the journey plan will expand the details for journey basics, preferences selected, walking directions, detailed schedule alternatives around the planned journey time, and parking options as applicable. By default, the Print version of the journey plan will show both text and overview maps, but these can be chosen to display or not display as preferred. Detailed Maps can also be selected for each journey element.
Can I save a print out?
Most print material can be saved in PDF file format. This file then can be, stored, emailed, and printed later.
How can I see and print out a timetable?
The Journey Planner can produce timetables for all services. The timetables are in pdf format and can therefore be viewed, saved emailed or printed at any time. Individual timetables can be viewed by using find a timetable tab. In addition, if you select an individual journey plan the origin and destination services will be available to download.
What is 'take neighbouring stops into account' for?
The 'take neighbouring stops into account for origin and destination' function in advanced settings selects several stops in a small around the origin and destination' locations selected. It is particularly useful if you are selecting an actual stop and are not, sure which one it is from a list e.g. where two stops are close together or on opposite sides of the road or have similar names. This is because if you select a stop the National Journey Planner will try to work out a journey plan even if the stop is on the wrong side of the road.
Does the National Journey Planner have auto-refresh capabilities so that journey results shown on the screen are always up to date?
No, the National Journey Planner does not currently auto-refresh; therefore, the time of travel may have to be changed to reflect the current time.
The e-mail feature is not successful in sending the journey plan to some e-mail addresses. Why can't it send the e-mail?
The National Journey Planner should be successful in sending an e-mail to recipients who do not have restrictions on incoming mail. Depending on the recipient's e-mail options/configuration, it may be considered as spam mail and therefore be blocked.
How do I give Feedback?
The journey planner is continually developing and improving and your feedback on its content is most welcome. To send feedback please use the link on the home page.
How do I change languages?
Select the most appropriate country flag near the top right of the Journey Planner.
Can I change the size of the Text to make it easier to see?
Yes by selecting the different text sizes
A
A
A
you can increase or decrease the text size.
What is the Text Version for?
The text version is a style of the National Journey Planner that has reduced features and functions. If there are compatibility issues accessing the full version, if you are using certain browsers or on certain PC's and slow internet connections, you may find using the text version useful.
Are there Apps available for the Journey Planner – to use on Smartphones?
The National Journey Planner has Apps specifically developed for Android and Apple Smartphones. They can be downloaded free on your smartphone.