News
Slane 2019 Metallica
28.5.19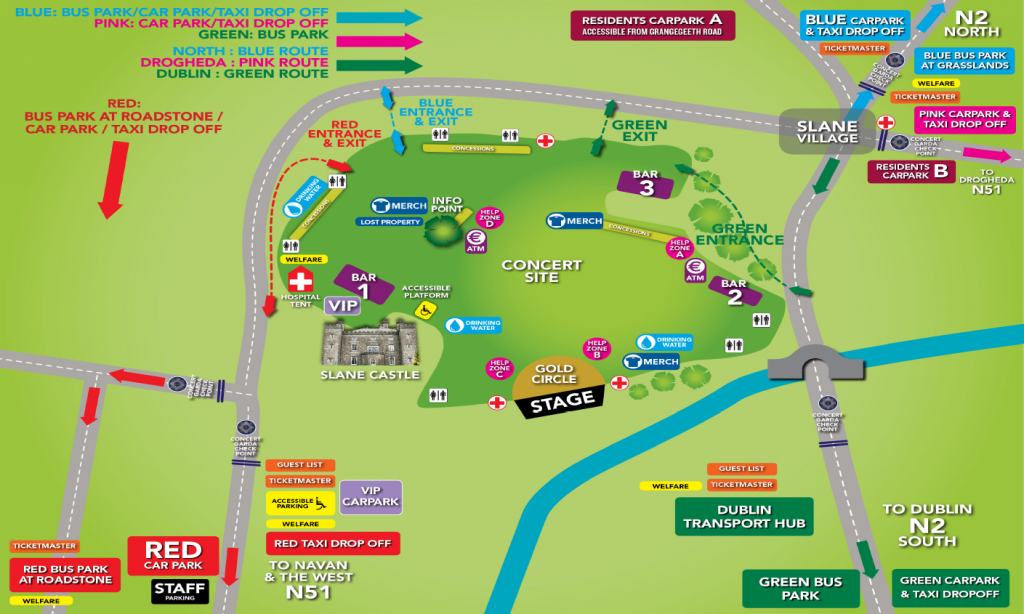 Q: Who is on the lineup
A: Metallica is the headline act for Slane Castle on Saturday 8th June 2019. Please check the MCD website (www.mcd.ie) for further updates nearer the show date.
Q: What time are Gates open at?
A: Gates open 2pm (14:00). Please note there is no queuing before this time. Please keep an eye on www.mcd.ie for all the latest event updates.
Q: Where and when is Slane Castle Concert site?
A:  Slane is 40 miles north of Dublin. On show day, the village is closed and a comprehensive traffic plan will be in operation. Access for car traffic will be via M3 and N2.  Allow travel time from Dublin of at least 90 minutes using Public Transport & please expect delays. Fans should allow themselves plenty of travel time when getting to the concert. You can download the concert app www.evntz.app for all information relating to the event.
IMPORTANT TRANSPORT INFORMATION
Q: I'm trying to find out how I can get to the event?
IT IS STRONGLY ADVISED TO USE PUBLIC TRANSPORT (Please book in advance to avoid disappointment)
https://mcd.ie/metallica-fans-advised-to-book-return-travel-to-concert-in-advance/
 For any urgent queries in relation to public / private transport to the venue, please contact transport@mcd.ie
Q: I am driving to the event, what is the best route?
If you are driving please book your car parking. For further details please see the official Castle Park Slane Camping & Carpark page.
From Dublin and the South, take M50 to the N2 at Junction 5 and continue to the GREEN car park.
From Drogheda take N51 to Slane & follow signs for concert parking.
From Navan & the West take N51 to Slane. Follow signs for concert.
IMPORTANT: People with impaired mobility should only approach from Navan via the N51 in order to access designated car parks beside concert site.
For details please see www.mcd.ie
Q: I'm travelling from the UK – can you tell me best way of getting to Slane?
A: The best airport to fly into is Dublin Airport. From Dublin and the South, take M50 to the N2 at Junction 5 then exit at the Slane exit and follow signs for designated car parking.
Q: Can I purchase a car parking ticket?

A: There is a fee to use any car parking facility for the concert. We strongly advise you pre-book your carparking to help avoid delays. For further details please see the official Castle Park Slane Camping & Carpark page.
Marathon Travel http://bit.ly/MarathonMetallica  and Dublin Bus http://bit.ly/DublinBusMetallica  are providing concert transport from Dublin City Centre.
Accessible Information
Car Parking: A pass can be issued to the car park for accessible ticket holders – please avail of this should it be required via access@mcd.ie . The Accessible Car Park is the closet car park to the site – though please bear in mind that everywhere at Slane is a long walk. Please note accessible car passes will not be issued until approx. 2 weeks prior to the event. Ticketmaster will advise the promoter of contact details for all accessible ticket holders and these will automatically be offered an option of availing of accessible parking. Please be advised that there will be a delay in exiting the car park after the show as the guards give priority to pedestrians on the roads around the venue for a period after the show.
If you have not purchased an accessible ticket but still feel you might be entitled to accessible parking, please email access@mcd.ie  with relevant official documentation supporting your request and you will be contacted accordingly. If you are an accessible customer and are not driving, please contact access@mcd.ie