Real Time public transport information
It gives you real time arrivals information for train, bus and tram services throughout Ireland. Dublin Bus, Bus Éireann, Go-Ahead Ireland, DART, Iarnród Éireann and Luas are all on the App.
You can also click here to use our Journey Planner to check out Real Time Information online.
ABOUT REAL TIME IRELAND APP
Features:
• See up to date information of when your bus/Luas/train will be at a stop or station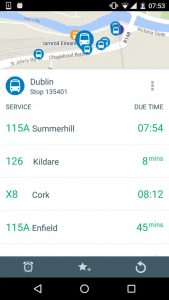 • View stops and routes on a map and navigate through the map for additional stops and information
• Set up favourites so that you can quickly access Real Time information for your regular stops
• Create reminders to notify you when a bus is approaching your stop, or when you are near a certain bus stop
• Access travel updates for transport operators so you can stay up to date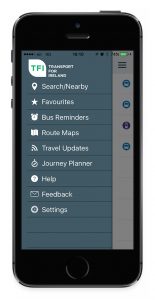 Frequently Asked Questions
Buses must be equipped with an Automatic Vehicle Location transmitter, which can track the bus, using a Global Positioning System (GPS) and transmit the data in a standard protocol. On-board software predicts the arrival time at the next bus stop. This information is then sent to a screen at a transport stop or the App through a central control system. The screen at the bus stop counts down the minutes until the bus arrives. Updates are usually received from the vehicle location system at 30 second intervals, so information on the signs is regularly updated.
The real time system is by its nature dynamic and is set to respond to factors on the road, including changes in traffic patterns, accidents, etc. In general though, the margin of error is less than one minute for predictions of five minutes away or less. For ten-minute predictions, the margin of error is less than two minutes, the margin increases the further away in time the prediction is, as the probability of intervening events increases. The system is continually fine-tuned in response to testing and feedback.
Operational considerations
With such an extensive bus system, technical problems or operational disruptions can sometimes occur. Unanticipated problems such as a road closure or a mechanical problem can sometimes affect bus services. Occasional incidents can occur where a street is closed, for example on St Patrick's Day for a march or a big sporting occasion. In such cases, bus inspectors sometimes need to make a last minute change to scheduled bus services and it may not always be possible to reflect this on individual signs. The real time system was developed to respond to service disruptions as accurately as possible however, some disruptions could still affect the accuracy of the prediction.

Software and communication considerations
Occasionally a fault may occur in communications between the central server and the on-bus equipment. Sometimes software updates may be required for new services and schedules which can momentarily disrupt real time information.
Real time information predicts the actual time of arrival by knowing where the bus is currently located. Your bus could arrive right at the time shown or it could occasionally get stuck in traffic so the arrival time on display at the bus stop can sometimes change back and forward accordingly. This service aims to provide the most immediate and accurate information to the waiting passenger at that point in time.