TFI Cycle Planner
The TFI Cycle Planner App from Transport for Ireland provides information on the best cycling routes for trips in the Dublin, Cork, Galway, Limerick and Waterford city areas, depending on the individuals' cycling capabilities.
You can use the TFI Cycle Planner online or download the App. If you are new to cycling or getting on a bike after a long break, the TFI Cycle Planner will find a route that avoids roahttds with heavy traffic and also avoids difficult turns at busy junctions to help you get comfortable cycling your bike around town.
You can download the app free from the Apple App store for iPhone and iPad, or Google Play store for Android devices.
For the more advanced cyclists the cycle planner will tell you about the most direct route to take while still recommending cycle tracks where they exist. The cycle planner covers Dublin city centre and all the larger towns around County Dublin as well as Cork City, Galway City, Limerick City and Waterford City. You can change between cities on the app by using the Select City Buttons.
To use TFI Cycle Planner type in your departure point and where you would like to travel to, you can also select an option for bringing your bike on a train or using bike hire. Depending on your needs, the app will direct you to a number of options. Simply select the relevant option and begin your journey.
The TFI Cycle Planner has a unique routing feature called 'Turn Difficulty Factor' which helps the user not only find the best route, but also to pick the appropriate junctions and turns suiting their cycling capability. For example a person who chooses the 'Easy route' setting will not be directed to take a difficult right turn at a busy junction. The TFI Cycle Planner will look for an easier way around that junction.
The app version comes with a 'Save for offline use' feature, so you can navigate your cycling trip using the app without running up data or roaming charges.
Key Features: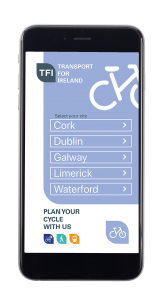 Easier Routes – Avoid heavy traffic
Balanced Routes – Expect some traffic
Direct Routes – possible heavy traffic
Save routes for offline use
Avoid difficult junction manoeuvres
Avoid Hills
Navigation / audible warnings when off route
Take bike on Train
Use City Bike Hire Bikes
Calorie counter / chocolate bar index
Themed Routes
Elevation information
DOWNLOAD NOW
About Walking & Cycling
There is an option available on the TFI National Journey Planner web page to plan a cycle route, however please be advised it is not available on the app.
Just Eat dublinbike stations are currently present in the planner with the ability to plan all or part of a journey using a dublinbike. Coca-Cola Zero Bike stations are located in Cork, Limerick and Galway and are also included in the TFI Cycle Planner.
The National Transport Authority continues to support physical improvements to the walking and cycling environment through its Sustainable Transport Measures Grants Programme.
The National Transport Authority (NTA) runs a 'Cycle Challenge' every year and a 'Pedometer Challenge.' Check out www.smartertravelworkplaces.ie for more information.