Leap Visitor Card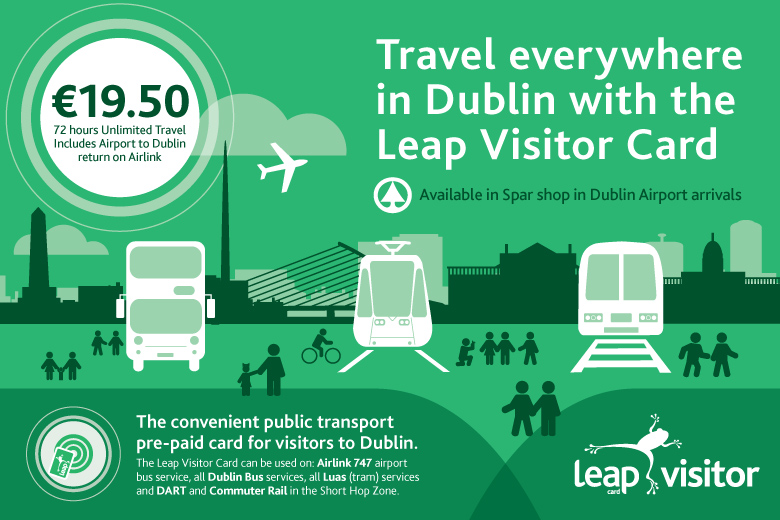 The Leap Visitor Card is a pre-paid ticket that allows you unlimited travel for 72 hours (3 days) after first use on:
Airlink 747 airport bus service
All Dublin Bus scheduled services (not valid on tours)
All Luas (tram) services
DART and Commuter Rail in the Short Hop Zone (all of Dublin city and county)
You can buy a Leap Visitor Card for only €19.50 at the Spar shop in the arrivals hall in Terminal 1 or Terminal 2 in Dublin Airport; or at the Travel Information desk in Terminal 1. It is 'the' tourist ticket to have for getting you around Dublin.
Using your Leap Visitor Card
The Leap Visitor Card is a smartcard that can be read by simply touching it against a validator. You will hear a tone to verify you have validated properly.
On Dublin Bus and Airlink 747, touch the ticket against the Leap Card Validator on the right-hand side as you enter the bus.
On Luas (tram), Touch On at a Validator on the platform before you get on the tram and Touch Off when you get off the tram.
On DART and Commuter Rail, Touch On at the platform entry gate or Validator before your journey and Touch Off at the platform exit gate or Validator after your journey. The card can be used between stations within the Short Hop Zone.
Transport Services in Dublin
Airlink 747 is a frequent direct bus service from Dublin Airport (T1 and T2) to the City Centre and main transport hubs.
Dublin Bus is the biggest public transport provider in the Greater Dublin Area operating over 136 routes. Normal services run from 5 am until midnight.
Luas is Dublin's tram service, operating two lines. The Luas Red Line links Tallaght /Saggart to Connolly / The Point. The Luas Green Line links Brides Glen / Sandyford to St. Stephen's Green.
DART is a rail line that runs regularly along the coast from Malahide or Howth in North Co. Dublin southwards through the city centre and as far as Greystones, Co. Wicklow.
Commuter Rail operates on two lines. One is from Connolly Station in the city to Maynooth. The other is from Heuston Station to Hazelhatch.
Plan your Journey NOW using the Transport for Ireland Journey Planner.
Handy Transport Apps
Download the Journey Planner Ireland App for Apple, Android, and Windows devices to plan your trips using public transport in Dublin and anywhere in Ireland.
Download the Real Time Ireland App for Apple and Android devices to see arrival times for public transport at your nearest bus, train or tram stop.
Bus Éireann and Iarnród Éireann offer a range of tourist tickets for travelling around Ireland. Visit  www.buseireann.ie for more details.